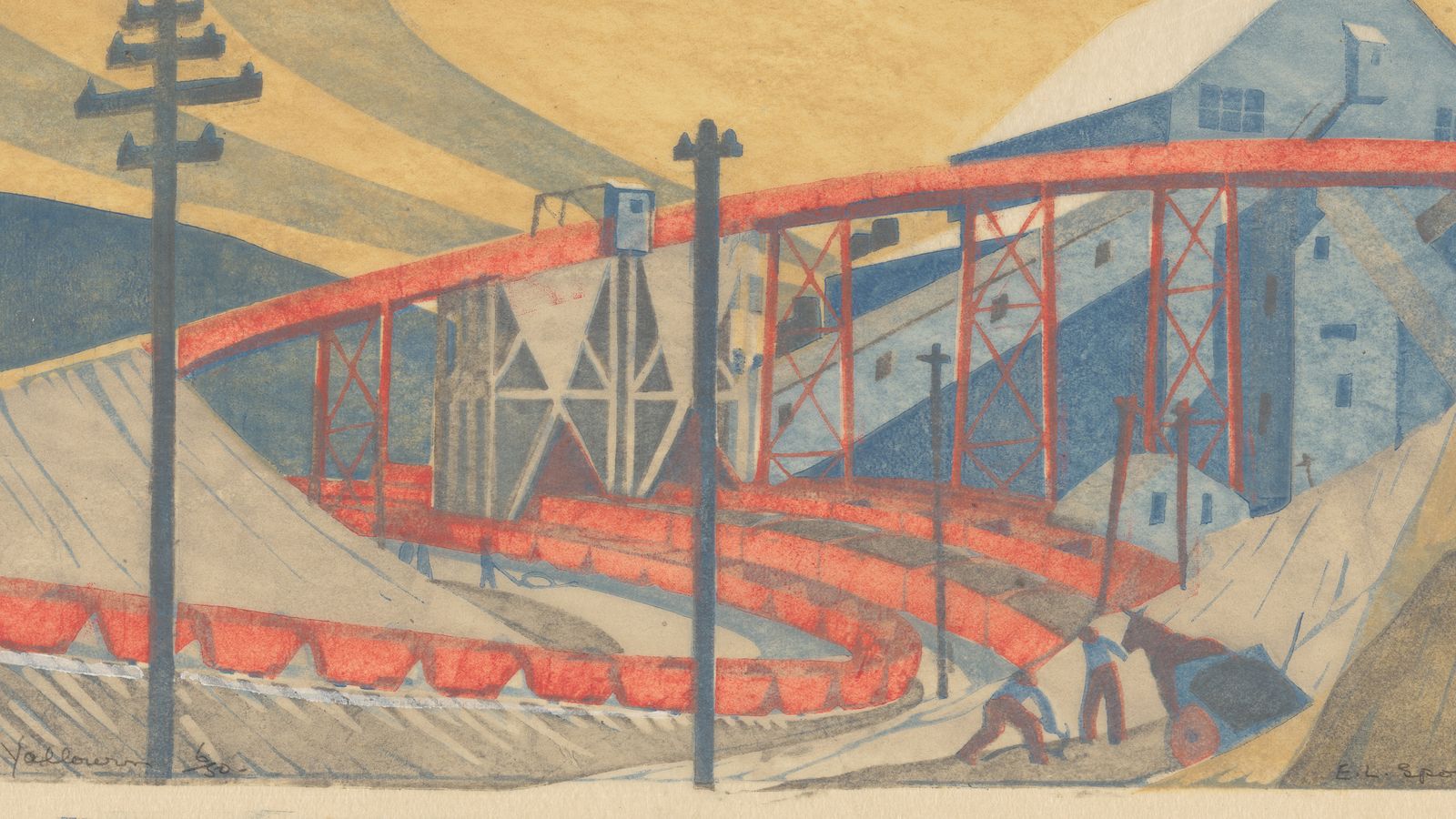 Landscapes
Spowers & Syme: Secondary School Learning Resource
---
Introduction
Like many Australian artists, Spowers and Syme travelled to Europe for inspiration. They were interested in the art of the past but also the art and ideas of modern artists, and their works depict scenes from Australia and places in Europe.
They produced landscape drawings, paintings and prints of places they visited, such as the linocut San Domenico, Siena 1931 produced by Syme. In this work, we see how the teachings of André Lhote influenced Syme in the way she created order and structure with geometric forms and tonal colour.
By contrast, it was the teachings of Claude Flight who had the greatest impact on Spowers. On her return to Australia, Spowers' style reflects this influence, in particular in her choice of subject matter. She found inspiration in the Australian industrial landscape as a symbol of the new age and progress.
It was the interwar period from 1920 to 1940, and although Australians were experiencing hardship, Spowers' and Syme's landscapes reveal an idyllic world. Their landscapes remain optimistic images while other printmakers like Noel Counihan and Frank Weitzel comment on the harsh reality of the period during the Great Depression.
Look
In their linocuts The works, Yallourn 1933 and The factory 1933, Spowers and Syme have adopted a technique influenced by Flight's teachings: eliminating black outlines and producing colour with multiple blocks. What effect does this create in the finished work?
In Spowers' linocut The works, Yallourn, a curved convoy of orange-coloured hopper wagons haul coal. What is the purpose of including power poles in the composition and what could it symbolise?
In the composition, we see two men collecting coal with a horse and cart. What comparison and comment does Spowers make by including them?
Think 
One aim of an artist can be to create a pathway along which the viewer can travel through the artwork. Imagine you are in either of these works. Describe your journey through the image. Your description should include physical details as well as your feelings about what you encounter along the way.
In Syme's industrial scene The factory, the image of a factory has an almost rural quality except for the towers of smoke. How has she created this quality in such an industrial subject matter? What effect does it have?
Create
Make a collage based on industrial images taken from magazines or the internet. Create a work in which the message is in complete contrast to Spowers' The works, Yallourn. Consider the concept of sustainability and contemporary issues regarding coal mining in Australia in your response.
Appropriate Syme's The factory and change the mood of the work through your choice of colour and shape or other adaptions to the printed image.