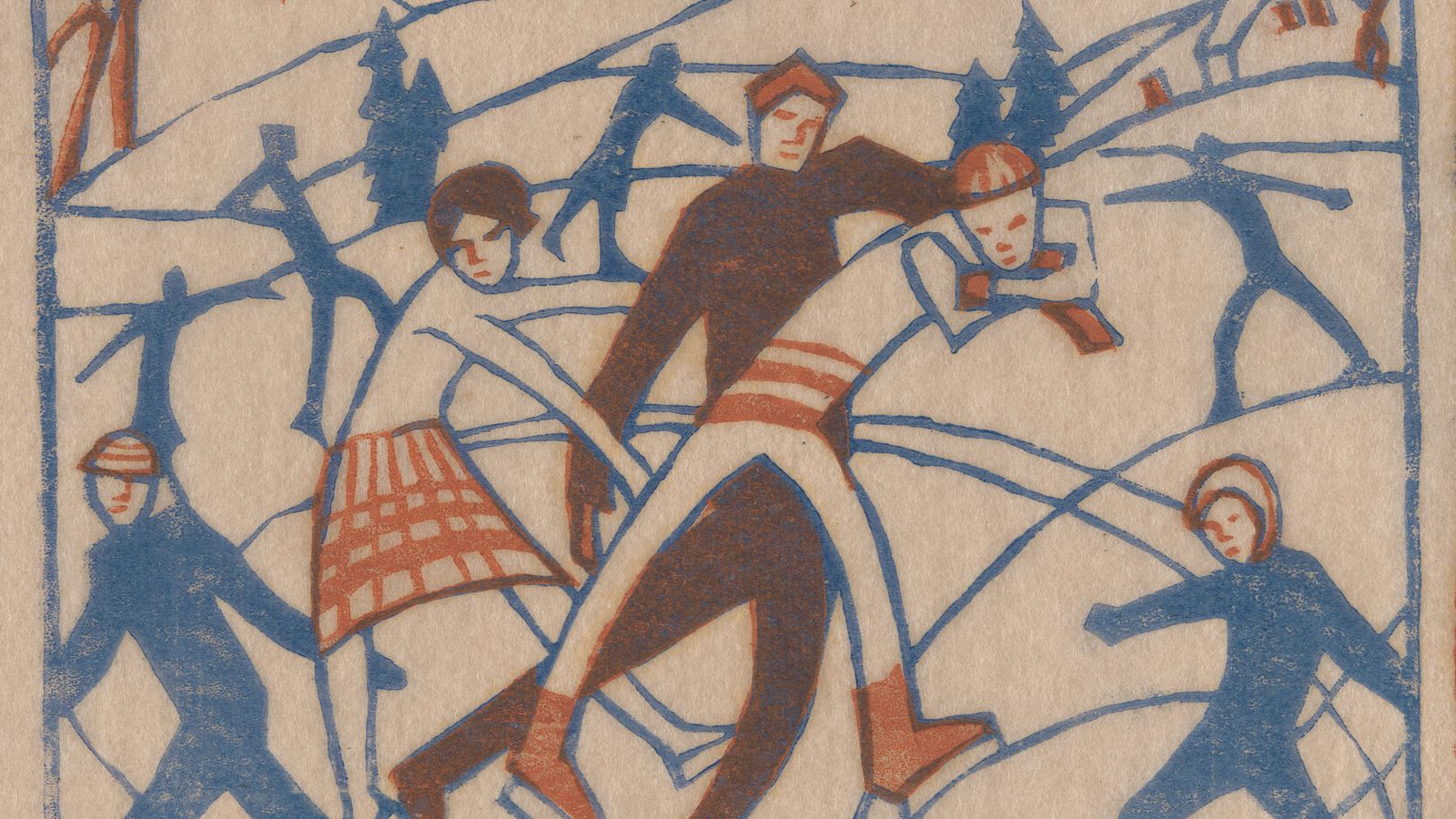 Modernity
Spowers & Syme: Secondary School Learning Resource
---
Introduction
Inseparable friends, Spowers and Syme travelled to London and Europe and studied together in the 1920s and 1930s.
In London they attended art classes at the Grosvenor School of Modern Art. Inspired by the teachings of Claude Flight, they experimented with new techniques and ideas associated with the avant-garde art movements of British Vorticism, Italian Futurism and Art Deco. Flight's students developed a style that combined abstraction and dynamism with geometric elements.
During this time, massive technological changes were occurring in transportation, such as the increased use of air travel and ocean liners and the availability of affordable cars. Flight's own art practice reflected modern life, reducing his compositions to simplified forms and patterns bursting with energy.
Italian Futurist writer Marinetti had a profound influence on Flight. His idea that 'the world's magnificence has been enriched by a new beauty: the beauty of speed' is evident in Flight's Brooklands 1929 (further below).
In this print, Flight depicts a popular motor racing circuit in England. It is a celebration of speed. The curved, fragmented lines evoke a sense of frenetic energy. Warm colours on the bonnet and wheels suggest the heat of the engine and tyres produced by speed while cars race out of the frame of the composition.
Look
In Syme's linocut above, Skating 1929, what effect do the lines and patterns on the people and in the background have on the subject? Think of words to describe the action.
Spowers painted a similar subject, Skaters 1931, in London. Two figures skate into view and blades scrape the ice, producing curved lines. What sounds can you hear? What do the two central figures in the colours of magenta, green and yellow provide in the composition? The woman skater appears off-balance, arching back in her yellow jumper while her partner attempts to pull her forward. What might this tell you about the two central skaters?
Think
In Syme's linocut, could these figures be skating on a frozen river or lake? How can we tell?
What is Spowers suggesting with the curved line of the magenta scarf? And does it correspond to any other part of the work?
In both works, have the artists created the illusion of depth using tonal variations of colour? Is it more apparent in one work than the other? What other aspects of the compositions give you a feeling of spatial depth?
Create
Imagine you are Syme being interviewed about your work. How would you describe and justify the composition, the flattening of form into shape and the choice of colours?
Experiment with drawing moving figures. Watch a dance performance and draw the dancers as they move. Respond to the sounds/music by speeding up, slowing down and making different kinds of marks. Don't worry about being accurate—produce continuous lines and overlap figures.