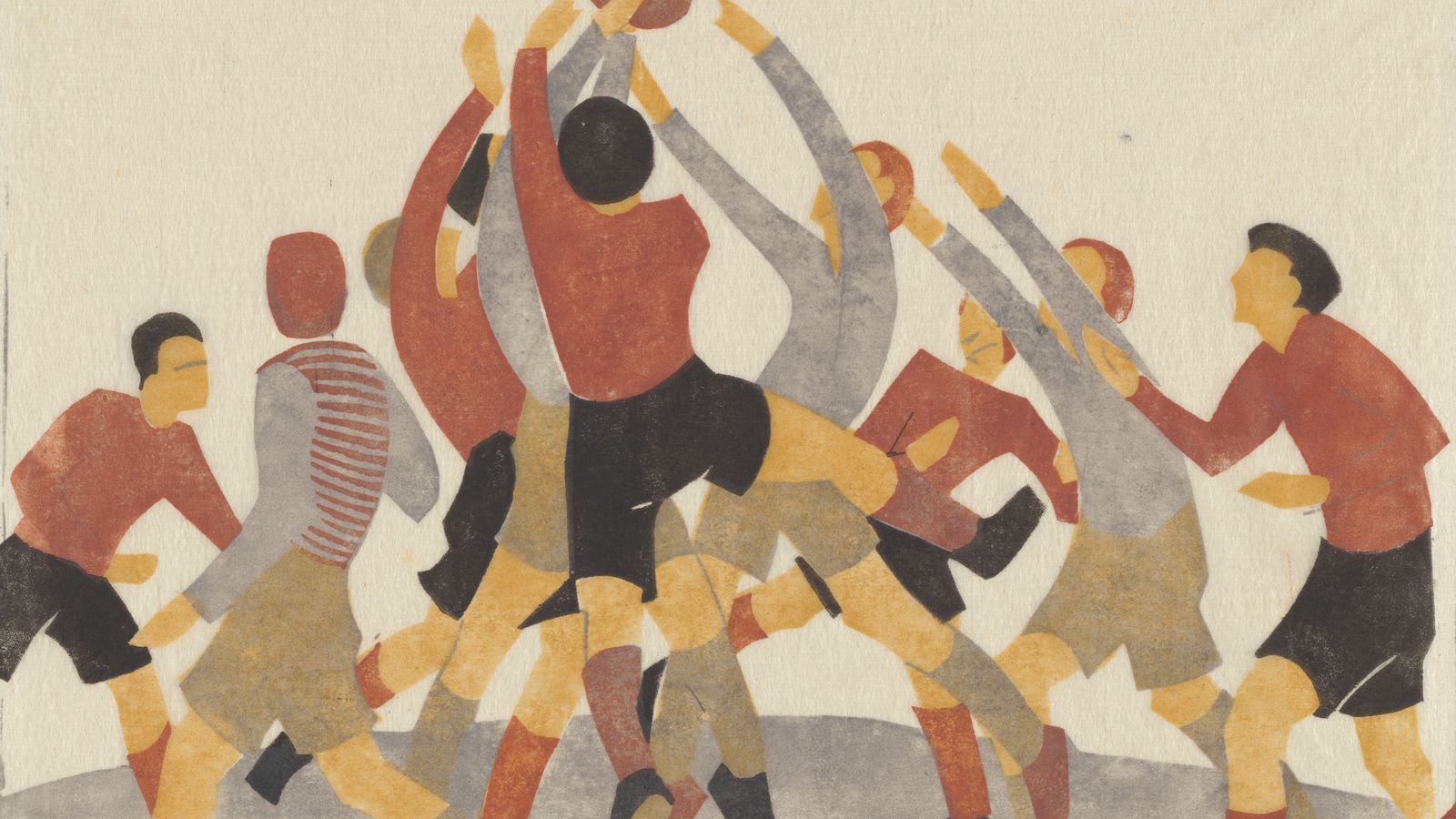 Play and Games
Spowers & Syme: Secondary School Learning Resource
---
Introduction
From her first illustrations of fairies published in The Australian at the age of 15 to her final exhibition at 46, Spowers' main source of inspiration was childhood. Spowers captured the joy and movement of childhood in pen, ink, print and paint. Fascinated by children, her work covered nursery stories, fairytales and children at play.
At the end of 1936, Ethel Spowers held her sixth and final solo exhibition at the Grosvenor Galleries in Sydney. It was a survey of old favourites and new works, spanning a decade of imagination and experimentation. Among the twenty prints and six watercolours, there were new linocuts: Kites 1936, Football 1936, School is out 1936 and Children's hoops 1936. These works were a return to her most treasured themes: children and family.
The Sydney Morning Herald reviewed the exhibition, noting:
"Few Australian exponents of the colour print can equal the gaiety, the forcefulness and the imagination shown by Ethel Spowers."
---
Look
Among the prints and watercolours in Spowers' final solo exhibition, celebrating her much-treasured theme of children at play, was Football, above. In this work we see a moment frozen in time, similar to a sports photograph found in the sports section of a newspaper. How has this been achieved?
The players in a game of Australian rules are reaching for the ball after the bounce. Flat areas of yellow, reddish brown, grey and black are repeated in the composition. Why is this important? What is the purpose?
Think
Compare the poses of the figures in Football. How does gesture and posture help tell the story?
The use of flat forms and geometry underpinned much of both Spowers' and Syme's work after their time in London. What effect does using this technique have in Football? What mood is Spowers primarily interested in capturing and has she achieved this?
Line can be used to describe the volume of forms. Where does this occur in the work? Why do you think the artist used a curved line to define the ground?
Create
Produce a Collagraph (block and card print) based on an action photograph. Select a photograph containing a group of players or performers in action and make a photocopy. Use tracing paper over the photocopy and reduce figures to essential shapes. Overlay this drawing onto card and trace. Cut out these simplified figures from card, glue onto heavy board and you have a surface on which to ink and print in the same way as a linocut. Include additional lines and shapes to emphasise motion. See the Related links below for a demonstration on creating a collagraph.
Childhood was a constant source of inspiration for Spowers. Scenes from fairytales were often the basis of her early illustrations. Select a well-known scene from a fairytale and produce a linear illustration in black ink. Refer to the work of Aubrey Beardsley in the link below, one of Spowers' influences, for his use of stylised, sinuous lines and decorative borders.